THE INCREDIBLE SHRINKING WAY
Like a dandelion in the sun, The Way International (TWI) grew rapidly in the 1970s, only to shrink and wither even more rapidly in the 1990s. TWI's following, leadership, income and assets have all shrunk to barely fifteen percent of its peak levels.
The Tree is Losing Leaves
Perhaps 100,000 people paid a fee to take TWI's introductory class (first Power for Abundant Living, then The Way of Abundance and Power). But ex-Way leader Sue Pierce, who had access to records for many years, asserted that TWI never had more than about 35,000 followers at one time. Since 1985 TWI's following has shrunk to less than 5,000, which averages out to less than 100 per state. Since Ohio leads the way with about 500 followers, many states have barely a handful. (Trustees pressured people to move near headquarters in Ohio to shore up their numbers there, claiming that being near the Root would help its followers.)
Although TWI does not publish its statistics like most religious groups, a firm indicator of this number was contained in TWI's report that only 4,600 participated in its 53 Defeating the Adversary classes offered worldwide in 2000 (The Way Magazine, JA 2000, p. 18). This showed a drop from the 5,027 students in Martindale's 1996 Rise and Expansion of the Church class. When a person is active in TWI, taking high profile classes such as these is essentially a requirement, not an option.
Missing Corps
The Way Corps leadership also absorbed shocking losses. It appears from published TWI statistics (which are incomplete) that about 2,750 men, women and children began Corps leadership training by 1983 (children who have parents in Corps training are considered "Junior Corps"). The largest single class was probably Eleventh Corps, which graduated 326 in 1983. Nearly 85% of Corps graduates are no longer with TWI. Before founder V.P. Wierwille's death, there were a peak of around 3,200 active Corps, but now there are under 650. Corps classes now number under 30, a decline of about 85%. In fact, one trainee who left Corps training mid-term reported that there was a combined total of only 33 in the two Corps classes in residence in spring 2001.
Since 1974, TWI sent over 10,000 Word Over the World Ambassadors (WOWs) including 2,077 in 1975, 2,700 in 1976 and 3,100 in 1982. But President Craig Martindale killed the WOW program and the Rock of Ages Festival at which WOWs were sent out and received back. A few years later, he began the Disciples of the Way Outreach program. But only about 120 people are sent out (on average, estimated, combing two waves) a year. Disciples serve six months, rather than the year that WOWs were on the field.
TWI was hemorrhaging people. But this fact was generally ignored by Way leadership, though it could be hidden about as well as hiding an elephant in a bathroom.
In fact, people were leaving because of the serious and numerous errors and false teachings and practices they saw in TWI. But Martindale and other leadership habitually blamed everyone but themselves for these nearly overwhelming losses. The Way Magazine proudly pointed out that Martindale himself "initiated changes to build a spiritually pure and sweet household that have led to a decline in the number of followers" (ND 1997, p. 22). This is partly true, because Martindale had a reputation for driving out people through his "mark and avoid" purges which were carried out by TWI leaders under his direction. But it completely obscured the fact that thousands of followers left TWI because of the errors and deception of its leadership.
Wierwille taught the importance of getting "the Word over the world" (WOW) through outreach. But in the face of catastrophic losses, TWI now teaches that "WOW" has already been accomplished, even though TWI numbers less than .002 (two thousandths of one percent) of the population of the United States (to say nothing of the world). It now focuses on the concept of remaining Wayers being the "remnant" instead, even though "lint" would be a closer approximation of its current size and influence.
Selling the Store
As the hemorrhaging of followers of followers continued from 1985 on (after the death of founder VP Wierwille and the reading of Chris Geer's Passing of the Patriarch, which accused the three trustees of serious error and wrongdoing), TWI lost the great majority of its income. Trustees then began a ten year period of selling off assets in order to stay afloat financially.
Here is a partial list of assets that were sold (estimates come from The Way Magazine and newspaper articles)
Asset
when purchased
investment amount
when sold
sale price
Way College of Emporia, KS
1974
$694,000 plus over $1 million to renovate
1991
$750,000
Rome City College
1977
$345,000 plus $1.7 million to renovate
1999
$750,000
80 acre Kipp farm
1973
1999
"fair"
50 acre Way Farm III
1978
1999
"fair"
Airport House (Donald Wierwille's house)
1980
1999
"fair"
hangar at New Knoxville airport
$130,000 (appraised)

(built by TWI)

2000
$65,000
Outreach House I
1971
1999
"fair"
Outreach House II and III
1993, 1994
1999
"fair"
various houses in & near New Knoxville
Late 1990s
Custom motorcoach
1975
1998
$125,000
Convair 580 propjet
1977
$750,000
1990s?
Rockwell Aero-Commander 685, Cessna 210 Centurion
1976
1990s?
Tinnier, New Mexico

(land & facilities used for LEAD)

1980
1990s
It is apparent from this list that TWI lost a considerable amount of money in buying and selling property- perhaps over $2 million (more if one adds costs of maintaining property which was vacant or unused for several years before sale). Several properties were operated only briefly. For instance, the Way College of Emporia was operated for only 14 years.
TWI incurred other losses as a result of lawsuits. TWI paid a large amount of money to settle lawsuits filed by Timothy Goodwin and by Paul and Frances Allen. TWI was probably happy to pay a large settlement to the Allens to avoid trial for conspiracy and sexual harassment charges and to have Paul Allen close his Waydale web site. The site had done TWI great harm by publishing evidence of the oppressive nature of TWI leadership.
A Happy Face on a Casket
Secretary-Treasurer Howard Allen presented several of these sales as victories for the ministry (TWI MA 1998, MJ 2000). This is ironic, since the growth of TWI and purchasing and owning, rather than eliminating, those properties were once presented as accomplishments. His articles barely alluded to the fact that the properties were no longer useful and could not be properly maintained because of the near catastrophic loss of followers, workers and income. TWI didn't need Emporia or Rome City because it saw a 90% drop in the number of its Way Corps students. It didn't need fields in New Knoxville because it no longer had a WOW program or 15,000 people to attend a Rock of Ages festival. TWI couldn't afford to maintain its properties because it had lost 85% of its contributors.
Allen's praise of TWI's sale of assets would be like the CEO of K-Mart bragging to shareholders about its decline in sales, stores and profits; or like GM being proud of a catastrophic decline in market share and production. Presenting the sale of assets and facilities as accomplishments is like putting a happy face on a casket- it looks pleasant until you find what lies underneath.
(Sources: The Way Magazine, MA 1998, p. 21, MJ 2000. P. 15, JA 2000 p. 19, JA 2000 p. 19, ND 1997, p. 22, From Vesper Chimes to the Way International by John Juedes & Douglas Morton)
Dr. John Juedes. 2002
Addendum: Details on the sale of Emporia and Rome City
WHAT'S WRONG WITH THIS PICTURE?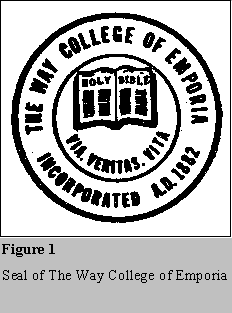 Pictured on this page is the seal once used by The Way College of Emporia. It reads "The Way College of Emporia Incorporated A.D. 1882."
However, The Way dates its beginning to 1942, the year V. P. Wierwille claimed God spoke to him and told him to teach the Word "as it had not been known since the first century." It purchased the college facilities in 1974 and began classes in 1975. How could The Way claim that its college began 60 years before The Way did, and 93 years before it held its first classes?
When The Way purchased the college, it hoped to inherit the school's credibility, accreditation and endowments granted when it was the College of Emporia, a Presbyterian institution. In the most publicized case, a court denied The Way's bid to receive $225,000 from the estate of Dr. John S. Coleman. Accreditation agencies withdrew accreditation because it was apparent that The Way college did not meet academic standards. The Way lost the credibility it desired as well, since it was obvious that the college was inferior, and yet tried to deceive outsiders into thinking it had credibility as a long standing, reputable institution.
The Way was never able to deliver the "fully accredited liberal arts program" The Way promised its followers in 1975.
The Way operated the college for only 14 years. It closed in 1989 (although it had been deteriorating for a few years before that) and sold the facilities to a development agency, Center of Emporia, on October 18, 1991. It was sold for about $750,000, yielding far less than the $1.7 million (or more) The Way had spent to obtain and develop it. The Way bought it by paying off a mortgage of $504,000, plus debts of $190,000. Renovations required over $1 million. Since The Way had lost so many followers, leaders and givers in the late 1980s, and was falling deep in debt, the sale was probably necessary to try to achieve some financial stability.
Emporia was concerned over the years about The Way's gun training, mass weddings and bloc voting.
The campus has since been sold in pieces to various agencies and is used for such diverse activities as the American Legion, National Teachers' Hall of Fame, administration for the Emporia State University School of Library, churches, parks and retirement homes.
For more details on the early years of The Way College of Emporia, see "From 'Vesper Chimes' to 'The Way International'" by Juedes and Morton.
TWI LOSES BIG ON ROME CITY SALE
The Way International sold The Way College of Biblical Research-- Indiana Campus at Rome City in northeast Indiana in December, 1999. The Fort Wayne Journal Gazette reported that Sylvan Springs paid $750,000 for the 197 acres of land, 30 buildings, furniture and equipment. Sylvan will use the facility for family enrichment programs.
The campus had been unused for years due to dramatic decline in TWI's following, and the skeleton maintenance staff moved off campus after the sale was final. The group that became Sylvan Springs was the first group to tour the facilities when the Way put it on sale in December 1997. TWI offered no asking price, but asked for bids. It promoted the sale using a video of local news reports about the campus.
It is likely that TWI lost well over $1 million on the campus, rivaling the $1 million loss on the sale of its Emporia, Kansas campus in 1991 (see the article "What's Wrong with This Picture?" for details on the Emporia campus' spotted history and $1 million loss).
TWI bought its Rome City campus in 1976, and opened it in May 1977 . The location had been the Kneipp Springs Health Spa for 84 years, operated for all but the first ten years by Sisters of the Precious Blood, a Roman Catholic order. The Sisters had rejected TWI's initial bid of $345,000 with no explanation when private developer Ten Leininger purchased the property, then sold it to TWI for a profit (which was said to have been 10%). Leininger and his children were involved in TWI to some degree at the time.
TWI initially invested over $1 million to renovate the facility (Sherman Goldenberg, "Secretive Sect Breeds Fear, Rumor," Fort Wayne Journal-Gazette, Feb 11, 1979). Ex-followers of TWI claim that TWI spent hundreds of thousands of dollars on a fire sprinkler system, swimming pool, new roofs, new water tank and general renovation. Recently TWI spent about $300,000 on a new boiler. The age of the buildings called for a high investment in maintenance.
While TWI claims to have put at least $1.7 million into the campus initially, it is likely that TWI's investment exceeds $2 million. Since TWI sold it for $750,000, it apparently lost over $1.2 million-- nearly two-thirds of its investment.
TWI teaches that prosperity follows believing and obedience, yet TWI lost over $2.2 million on two real estate deals. The loss is even more surprising in an age in which inflation is typically over 3% per year.
Dr. John Juedes, C. 2000
Return to The Way Today Menu