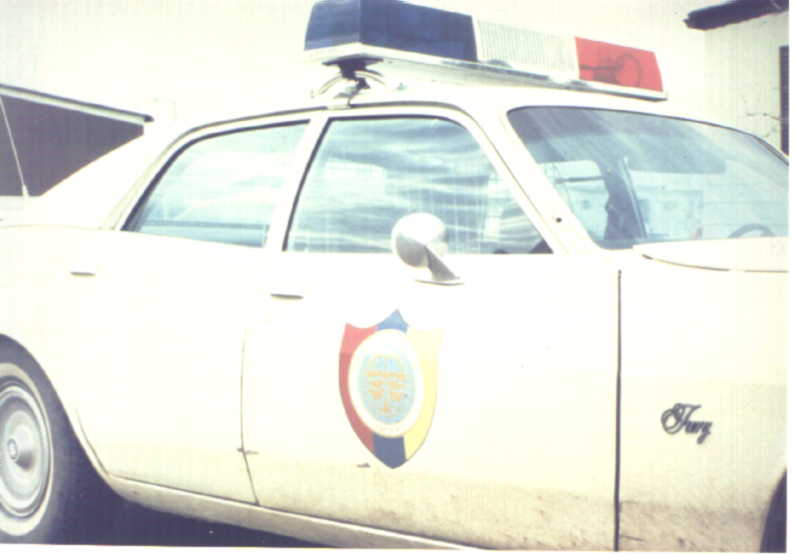 THE WAY POLICE CAR
One Way activity which was very disturbing to Ohio residents was the creation of The Way International Police Department in 1978, partly intended to reduce vandalism of its property. Shelby County Prosecutor Scott Jarvis, who was at times under fire for conflict of interest since he was also general counsel for TWI, set up a police force under Ohio revised Code 3771.01. This 1874 law, called the Chautauga section, was originally authored to allow Chautauga gatherings to set up security for their events.
Way Rev. Charlie Quillen became chief of police and Wierwille's son John Paul was one of the first officers. The Way purchased a pursuit car, uniforms and badges and designed an insignia. The Way police functioned much like any municipal police force, carrying weapons and stopping vehicles on the roads. "They had a squad car with flashing lights and everything," said Brent Henschen of the New Knoxville Police Department, "Heck, they even pulled me over once."
Shelby County Sheriff John Lenhart showed his concern about the Way police by taking steps to control their powers. He pointed out specific ways the 1874 law could easily be abused and commented, "...I don't think that's healthy. There's no checks and balances. There's no mayor they answer to, no town council that they answer to."
Lenhart refused to deputize Way police and to grant them access to nationwide police records. He asked the office of County Prosecutor Jarvis if Way police had power to block off roads and stop cars, and received the opinion that Way police had no such jurisdiction on roadways. Shelby County officials also prevented Way policemen from taking an Ohio Peace Officers training course.
The Way International Police Department was terminated within 18 months of its inception as the Ohio government moved to intervene. When The Way tried to extend its police power into neighboring Auglaize County, Judge Jacob Boesel of the Auglaize county Municipal Court ruled the Chautauga law unconstitutional. State Rep. Dale Locker tried to resolve the matter entirely by introducing a bill, which was strengthened and passed by the Interstate Cooperation Committee. In April 1979 the Ohio House passed the amended bill to remove the entire Chautauga section from the Code. While this bill effectively terminated The Way International Police Department, Way security continues to pose as police.
Although the sign on the highway says, "you are welcome at The Way," the behavior of Way security gives every visitor the clear impression that they are not welcome at The Way. Security has become increasingly aggressive, quickly and thoroughly investigating (even interrogating?) anyone who appears on campus without a name tag. They run off anyone who is not currently active in a Way-controlled fellowship (formerly "twig") and who doesn't have a Way escort.
Way security personnel try to intimidate outsiders by dressing as police officers-- complete with utility belt, holster, CB-style microphone clipped to shoulder, metal badge with the word "patrolman" prominently stamped on it, and white vehicles with a seal painted on the door and emergency lights on top.
Way security chief John Linder has also spent increasing amounts of time scrutinizing web sites on the Internet which offer material critical of TWI. Many Wayers have left TWI, and many potential recruits have decided not to associate with TWI, because of information they have found on the Internet.
Photo: The Way International Police Car. The insignia on the car reads: "The Way International Police."
Portions reprinted from the book From "Vesper Chimes" to '"The Way International," which includes endnotes documenting the information and quotations.
Dr. John Juedes, 1999, www.empirenet.com/~messiah7
Return to List of Photos