Volunteers called Petal Pushers help finance the Luthern Hour Float through the hours they work. Volunteers apply petals, rice, and other dry materials, cut flowers and other tasks.
Messiah's decorating trips take place each year between Christmas and New Year's. Contact the church for information about the next trip.
Using a scaffolding to apply silverleaf to a float (below).
Youth Group members apply glue and seeds to a fish on a float at the warehouse (above).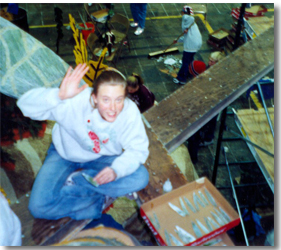 To learn more about Petal Pushers, visit the Petal Pusher website.